Horeb Open Transaction Processor provides high throughput transaction processing as demanded by business firms, without limit, since it uses pseudo-conversational technique for transaction processing.
Applications, that run in HOTP inherits two major features:
First, they can be deployed any an open system, that is a processor that has an IP stack.
Second, they are transactional so that the input and output are capable of spanning seamless processes without having to stay in the memory (core or virtual) all the time.
Performance is high and ensures reliability as transactions are accounted and logged. The transactions are highly secure and they are scalable as they provide continued maintenance and upgrades.
HOTP modernizes the existing applications and makes them cohabitate with new applications running in different platforms.
Many existing applications are irreplaceable since it is the vertebrate of business processing. However, due to their age and experience, they shy away from new technology.
HOTP transforms an existing application to interface with new technology. It uses the conventional wisdom of separating the business processing from the presentation elements and enables the business processors to be deployed in multiple transaction managers.
For instance a collection of 3270 and batch applications can be stripped down to the business processes, which can then be deployed in many CICS regions or daemons running in z/OS and distributed servers. Thus these processes become capable of receiving transactions from any IP source, either through a browser or through a commonly accepted protocol like EDI, XML schema based SOAP, plain HTTP(S) or customized data structures.
Once transformed, these onetime closely clicked programs are now spread across many servers to provide many reusable business functions, enriching and sharing the load of business processing.
From the users stand point, they see a dynamic and real-time environment, where they get their data as per their flexible requirement. There are no static reports with inflexible intervals.
All batch programs run as online processes and on demand, which makes the batch windows to disappear and they become active participants in the user driven online transaction processing.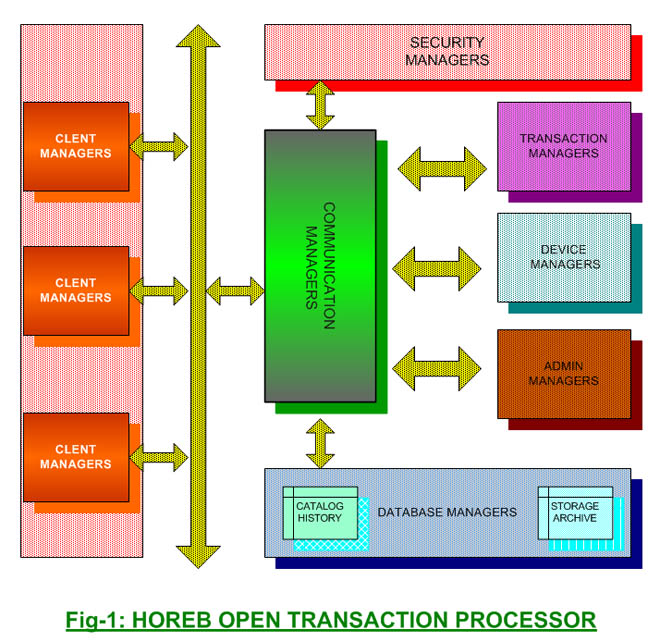 Applications are developed and maintained without having to master a new technology.
With HOTP, the developers are at ease to develop application programs in a programming language of their choice. They are not restricted to use only one language.
HOTP offers a full length of debugging facilities that allow the developers and the testers to assure application quality.
Application diagnostics, logs, trace and dump features provide an unified and integrated front to solve production problems.Furthermore, HOTP offers operational and support features which are essential for business processing and program maintenance. It provides backup and restore features that help create a foolproof disaster recovery environment.
Transactions are of all kinds.
A normal transaction begins and ends in a flick of a microsecond during which time it may run one to many programs, but all are flushed at the end of the unit of work.
A continuous transaction is required to handle a continuously arriving data and process them instantaneously. A continuous transaction forms a frame work where it delegates work to thousands of normal transactions.
A workflow transaction is a bundle of normal transactions that are connected together with some rules and conditions. The transactions contained in workflow transactions maintain their states, which are used for monitoring and restart procedures.
Between the above three kinds of transactions all system and application needs are met.
The four pillars of data processing are handled with care.
The performance is upheld by the dynamic multiplexing of the communication servers that explode and implode based on the throughput of traffic and exceptional outages.
The reliability of the data is guaranteed by powerful data access servers that backup data on updates to provide forward recovery and audit trails to maintain the activity history, which in turn enable the back-out and restart mechanisms. Hence the transaction processing can be continued without disruption in case of program and data failures.
Security is granular enough to provide specific limitation on facilities and enable the administrators to provide permissions on specifics, avoiding unnecessary locking that adds overhead to productivity. Security is provided at the transaction level, user level, node level, functional level, data level and program level.
Applications are scalable as they undergo new versions and releases. Planned Migrations to newer versions are made possible by isolating the data from processing. Multi-Version coexistence is made possible by maintaining the application control database. Problem management, production trouble shooting, application change control and transaction monitoring make the work of Operations more manageable and provide support.
It is within this framework of multiply connected components, we provide the solution in the timeframe that is impossible for anyone else to achieve by using any other tools or packages. Moreover, it fixes the methods and best practices in place so that the deliverables are met with utmost standard, assuring quality and having provisions for skill transfer, training and documentation. Most importantly, the deliverables are delivered and the project gets completed.
---

Products




Horeb is an open transaction processor. It provides high throughput transaction processing as demanded by any corporate business firms, without any limit or restriction.

---

---

What is Horeb Transaction Processor?

HorebTP is a open transaction processor which enables development and administration of applications on a open system.

---

| | | |
| --- | --- | --- |
| | Find more details about us in this white paper. . | |

---

| | | |
| --- | --- | --- |
| | We are interested in hearing from you. If you have any questions, concerns, or comments about Horeb and our products please contact us via email | |